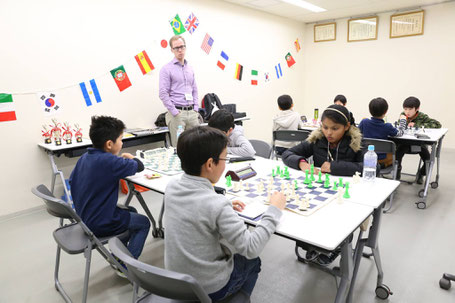 Tokyo Bilingual Chess Club had a great turnout for our new year scholastic chess tournament this past Saturday, January 28, 2017. There were a total of 16 players vying for various trophies and prizes.   The field of 16 players was split into two sections, an open section (Class A) and a U1000 section (Class B). The kids and parents were all great and we couldn't have asked for a better group.  Special donations (Harry Potter merchandises & chess books!) were provided for winners to take as a prize.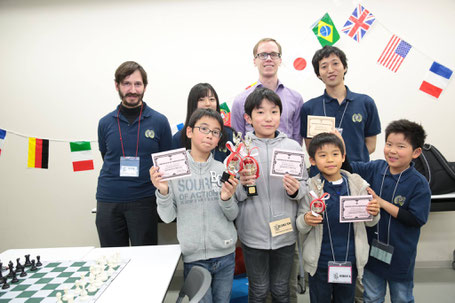 The TD, Alex A., and Teacher Misaki settled any type of dispute that arose during the game. When two or more players ended up with the same score, we had a blitz chess play-off, in which they play one game of five-minute chess to determine who wins which trophy.
Class A winners:
Class A: Haruto Endo with 5.0/5.0
Class A: Ryousuke Sugimoto with 4.0/5.0
Class A: Shota Osaka with 3.0/5.0
Class A: Kai Tatsumi with 3.0/5.0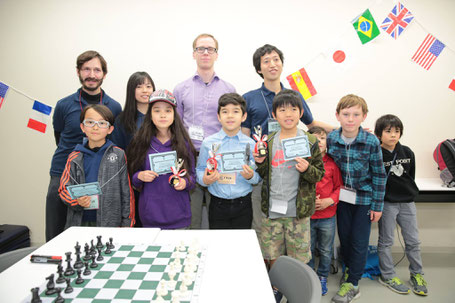 Class B winners:
Class B: Umarbek Bakhodirjonov with 4.0/5.0
Class B: Haruto Murase with 3.5/5.0
Class B: Anastasia Lioubimova with 3.0/5.0
Class B: Dylan Bell with 3.0/5.0
Class B: Dylan Cha with 3.0/5.0
The 1st place winner of each section received free entry fee for the 8th scholastic chess tournament this summer, 2017.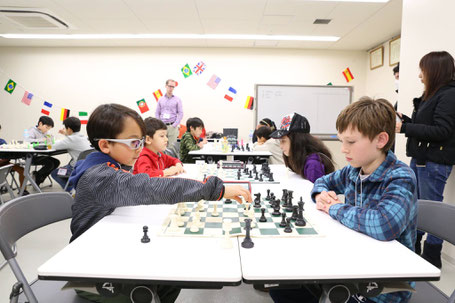 Thanks to International Master Ryosuke Nanjo and FIDE Master Anton Frisk Kockum for help with monitoring the games and/or helping to set up and break down everything. Also, thank you for being the best photographer, Emi Hasegawa, in the chess world! It was a huge help and much appreciated.  Congratulations to the winners, and a big thank you to all the players who came out to compete.  The next batch of tournaments is just around the corner, so be sure to register for your chance to win.  
---
2017 New Year TBCC section A        
1. Haruto Endo  3W1 2B1 4B1 5B1  1W1,  5 pts
2. Ryosuke Sugimoto 3B0  2W1 4W1 5B1  1B1, 4 pts
3. Shota Osaka 2W0  3B0  1W1 4W1 5B1, 3 pts
3. Kai Tatsumi 4W0 2B0 3W1  1W1  5W1, 3 pts
5. Aarushi Deo 5W0 4B0  1B0  3B1  2W1, 2 pts
5. Yuma Suzuki  5W0 1W0  3W0  2B1 4B1, 2 pts
7. Isshin Maehara 1B0  4B0 5B0  2W0  3B1, 1 pt
8. Aki Hasegawa  1W0 5W0  2B0 4W0 3W0,  0 pt
---
---
2017 New Year TBCC section B          
1. Umarbek  5W1 3B0 2W1 4W1 1B1, 4 pts
2. Haruto Murase 5B0  4W1 3B1   2W1 1B1/2, 3.5 pts
3. Anastasia Lioubimova 3B1 4B0 5B0  1B1 2W1, 3 pts
3. Dylan Bell 2B0 3W0   1B1 4B1 5W1,  3 pts
3. Dylan Cha 4B0  5W1 1W0  2W1  3B1, 3 pts
6. Ryota Okayama 1W0   4W0 2B0  3B1 5B1, 2 pts
7. Ulugbek  2B0 1W0 5B0  3W0  4W1, 1 pt
8. Lira  1W1/2 2B0  3W0 5W0 4B0,  0.5 pt
---